When presenting a project like no other, its success will always depend on one thing; your ability to make it look and feel real. But how do you showcase a 46-story fantasy tower like The Perennial? To begin with: your visuals better impress.
Welcome to the paradise office
750,000 square feet bursting with native plants and flowers. Walking traces graced with natural sunlight, water flowing over fountains and walls, a 28-foot waterfall, and a 30,000-square-foot large sky garden 200 feet above downtown Austin.
If we told you this could be your new office building, chances are you wouldn't take our word for it. The Perennial is just one of those places you must see to believe, namely because it has nothing in common with all the regular office glass boxes out there.
"So much of this building is about that human emotion that someone will feel being inside, so, when it came to creating visuals, it was imperative that the images could capture that feeling."

— Tyler Buckler, Principal at Cielo Property Group
A new idea of a workplace
It was apparent, digging into the image-making process, that getting the right ambiance was a make-it-or-break-it kind of thing. And that the smallest of leaf would be vital. After all, there wasn't only a unique construction here to communicate, but an entirely new idea of what an office building could be or look like.
"The biggest challenge was to have all the organic materials act and interact naturally. Every plant had to communicate the same thing. And, of course, there was that unique Austin light to capture."

— Mari-Louis Storm, Project Manager at TMRW
And the number of plants visualized in this project must have been some sort of record, considering the impressive collection of 22 images and four virtual SpaceWalk tours crafted and delivered by our artists here at TMRW.
"We worked very closely with the team at Unfettered, and I think our mutual obsession with details helped the images come to life in a beautiful way. In a project like this, there are no shortcuts. We had to create the Perennial experience from scratch."

— Mari-Louis Storm, Project Manager at TMRW
However, if you (like us) feel this might be the perfect place to check your daily emails, you'll have to wait patiently until at least 2025. The Perennial is not even to break ground in downtown Austin, Texas, until the end of this summer. Until then, you'll have to settle with the beautiful visualizations below. Enjoy!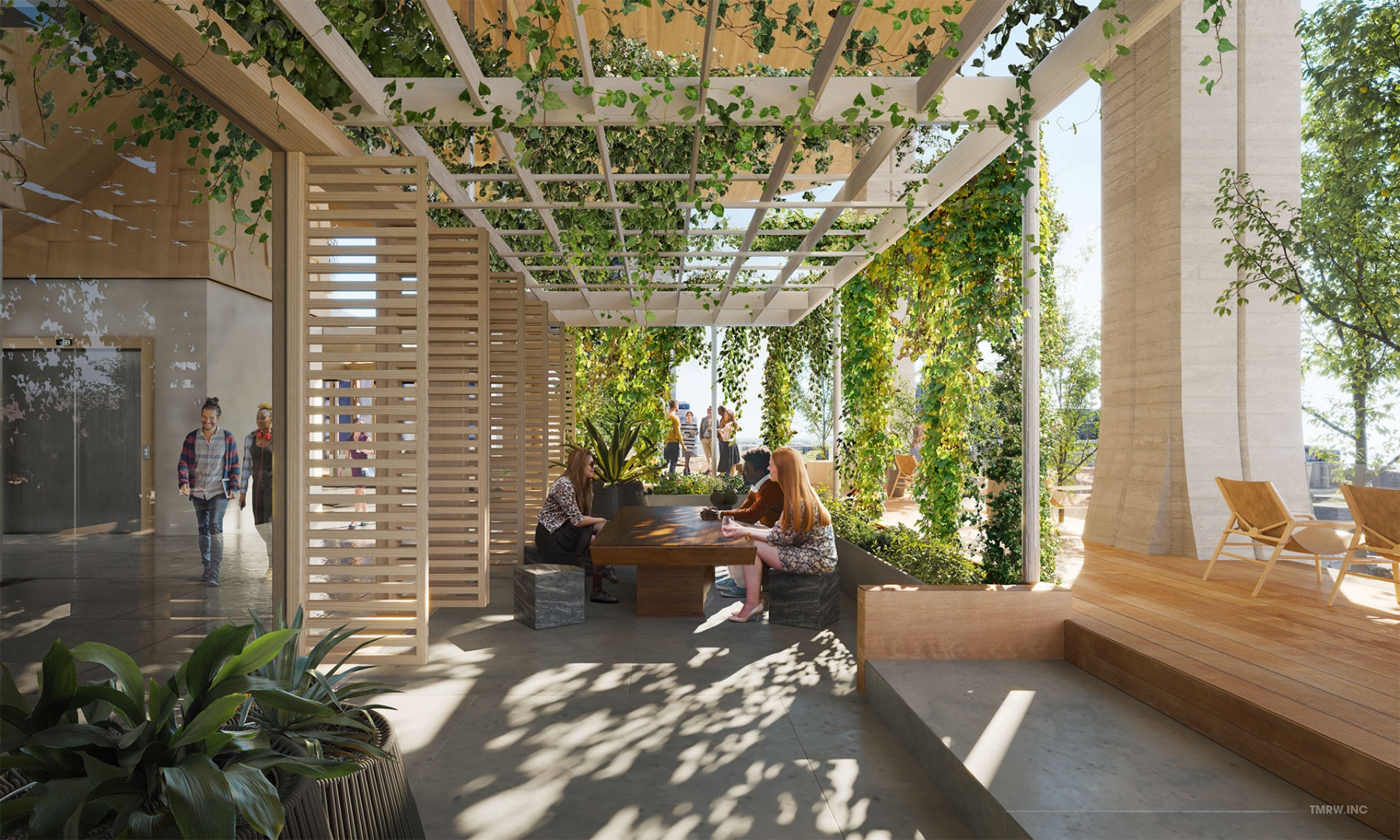 Take a virtual tour
Biophilic design is a philosophy of incorporating elements from the natural world into our modern structures. Take a SpaceWalk around the Sky Garden and the level below, and you'll be surprised how seriously that promise is taken.
About The Perennial:
Office tower in Austin, Texas
Developer: Cielo Property Group
Agency: Unfettered
A total of 750,000 square feet
46 stories
Outdoor spaces on each floor
100,000 square feet of landscaped space
Sky-garden 200 feet above downtown
Scheduled for completion in 2025
Marketing renders by TMRW
Good ideas deserve outstanding visualizations